Activities in Kalpitiya, Sri Lanka
Are you looking for some thrilling activities to make the most of your Sri Lankan adventure? Look no further! In addition to kitesurfing, Sri Lanka offers a wide range of side activities to keep you entertained and energized.
For nature lovers, there are numerous opportunities to explore the island's lush forests and wildlife. Take a hike through the Sinharaja Forest Reserve or visit Yala National Park for a chance to spot leopards, elephants, and more.
If you're looking for something more cultural, check out the ancient city of Polonnaruwa or the iconic Sigiriya Rock Fortress. For a taste of Sri Lankan cuisine, take a cooking class or indulge in some street food at the bustling markets.
For those seeking some relaxation, Sri Lanka's beaches are the perfect spot to unwind. Take a yoga class or enjoy a soothing massage, or simply lounge on the golden sands and soak up the sun.
No matter what your interests, Sri Lanka has something for everyone. So why not make the most of your trip and experience all the side activities this beautiful island has to offer?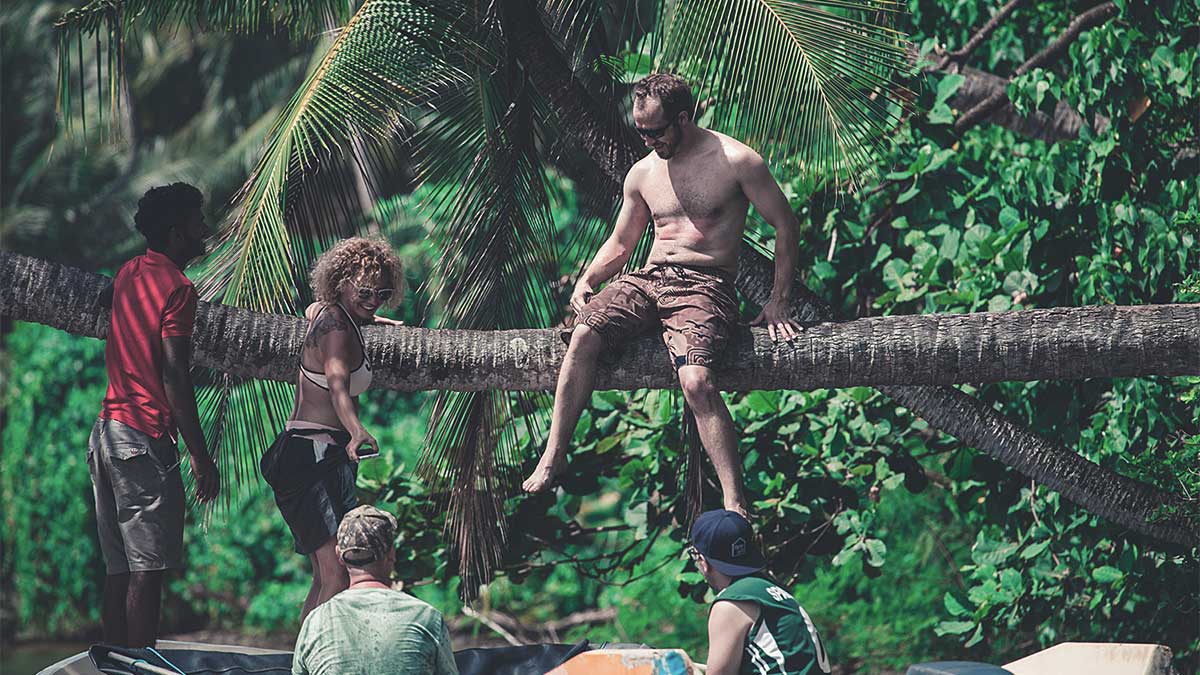 Kiting Boat Trip to Vella Island
This is very popular choice among kitesurfers as the wind tends to be even more stable than Kalpitiya Lagoon (20+ knots on average) and the water is incredibly flat!
In the morning, we will hop on a boat and head North for 45 minutes. We will arrive at the first island and do a short downwinder to Magic Island. Here, we'll spend the rest of the day experiencing some of the flattest water you've ever ridden. We will return to the hotel before sunset, by boat.
Dolphin Watching in Kalpitiya
Thought of as the most intelligent beings in the water, dolphins are friendly and playful. Now you have the opportunity to enjoy dolphin watching in Kapitiya, an unforgettable experience of your life. Many dolphins gather in large schools off the Kalpitiya coast of Sri Lanka. Dolphins are a protected species in Sri Lanka. The clean warm waters in the area are the perfect habitat for these playful, friendly creatures.
 November to April is generally the best period for dolphin watching, as they migrate from colder waters during the winter months. Among the types of dolphins that you will be able to see are bottle-nose dolphins, spinner dolphins, Risso's dolphins, and humpback dolphins.
Wildlife Tour of Yala & Udawalawe
Located on the south coast of Sri Lanka, Yala National Park is Sri Lanka's most famous wildlife reserve. This park gained popularity as it was home to the Big Three, i.e. elephants, leopards and bears. Elephants can often be spotted grazing on patches of grass or at a watering hole – so keep your eyes peeled. With the highest density of leopards in a geographical area, it is also one of the best places to spot these elusive beasts. However, keep in mind that you'll have a higher chance of spotting leopards (or sloth bears) if you embark on an early morning safari. It's important to be patient and quiet when searching for wild animals, remember to advise your kids of this too!